 History: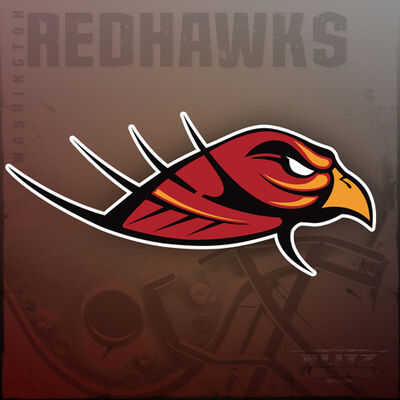 The Washington Redhawks joined The League in 1942 after
Marshall Cooper
consolidated The League from twelve teams to six teams to maximize coverage during World War II. In 1972 during an away game against the
Baltimore Bearcats
, Baltimore WR
Lawrence Saunders
is arrested for dodging the draft and Washington is able to use the disturbance to come from behind and defeat the Bearcats. Bearcats' owner Antonio Gerasi attempts to get the game results overturned and goes on to sue the federal government. He is unsuccessful, but when Saunders is killed in action in Vietnam six months later, it sparks a wave of anti-war protests. In 1976 following the Eastern-Western League merger, Washington begins play in Division I and wins the first ever combined League Championship.They fail to repeat the following year however losing to the
Kansas City Crossfire
. By 2004 they had fallen all the way down into Division III, a Division that was created by the 1994 merger between The League and
Clive Hanson
's Scrub League. They were able to make the Division III Championship game but, lost to the
Carolina Copperheads
. In 2006, the Redhawks make it to Division 1 and make it to the Championship game to face the Nightmare. As the Nightmare started the 1st half 21-7, Quentin Sands goes down with an injury on a blitz play in the 2nd Quarter, tearing his MCL and ACL at once, the Redhawks used it to their advantage by winning the league championship 40-28.
Sometime in between the two Blitz games popular Redhawks QB Mike Mexico and DE Jacob Williams, were both arrested and put in federal prison. Williams, however, was released some time before the start of the 2009 season, while Mexico remains in jail. They would find a new QB in a former member of the player's team from the first Blitz game QB Clayton Wescott.
In 2008 the Redhawks win the Divison III Championship to finally move back into Division II.
Team Captain: Jacob Williams (Blitz I) Clayton Wescott (Blitz II)
Stadium: Redhawk Stadium
Washington Redhawks Roster
Redhawks
Quarterbacks

1 Clayton Wescott
11 Ted Cale 


Running Backs

35 Kirk Bradford HB
39 Jimmie Nichols
29 Rasul Muhammed FB
33 Leon Taylor


Wide Receivers

80 Nick Connon
86 Richard Davies
83 Dakota Bryant 
87 Max Bennett
81Chris Morin

Tight Ends

89 Chad Belling
88 Allen Ireson

Offensive Linemen

61 Alex Harvey LT
62 Phillipe Federov RT
65 Quinton Wallace RG
70 Ronnie Wilson LG
79 Roger Inglis C
64 Jeffrey Katz C
63 Austin Fisher G
67 Frederick Wright T
Defensive Linemen

76 Rodney Gerstein DT
77 Kayne Green DT
78 Ralph Carter  DT
90 Curtis Hupponen RE
91 Chris Krauskopf LE
93 Robert Maltais RE
96 Chris Valentine LE
99 Bruce Hart DT

Linebackers

45 Tedd Edwards OLB
48 Stuart Egan MLB
49 Craig Ferguson OLB
44 Donald Hootstein OLB
51 Derrick Nelson OLB
54 Eric Olczyk MLB

Defensive Backs

27 Wade Adams SS
32 Chris Angeli FS
43 Steven Bethley CB
22 Marcus Carter SS
21 Arthur Reed CB
9 Ezekial Freeman FS
22 Teddy Grazian CB
31 Vincent Oliver CB

Special Teams

10 Eric Mendes K
15 Keith O'Shae P