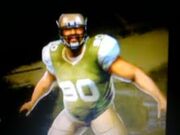 Tyrell Price is the defensive end captain for the
Kansas City Crossfire
. He is known to be incredibly violent both on and off the field, as he has racked up a series of assault-related arrests in the off-season. He has managed to stay in The League and out of prison only due to his lawyers' ability to plea bargain and complete community service. Commentators have put forth the theory that Price is mentally unstable.

Role in Blitz 1
Price manages to stay out of prison just long enough for him to play against the player's team in two games. He may be the player who accepts the escorts at the hotel on behalf of the Crossfire.

Role in Blitz 2
Price returns to the Crossfire to once again play against the player's team during the Division II season. He once again narrowly avoided prison time, this time for assaulting a counselor at a boys' camp. He resurfaces again in Division I, as he is one of many players who is released from his contract, only to sign with the Los Angeles Riot.