History
The San Diego Cyclones were a founding member of the Western League in 1956 as the Sacramento Cyclones. In 1967 the Cyclones won the Western Championship and then lost the annual West-East Exhibtion game to the New York Shamrocks this game was noteworthy more for the fact it would be the last the Shamrocks played as on the way home from it their plane crashed killing nearly the entire team. After the merger of the Eastern and Western Leagues in 1976 the Cyclones begin play in Division II. By 1981 the team was nearly bankrupt and was forced to take San Diego mayor, Arthur Rand's offer to relocate the team there, under cover of night the team packed up everything and made the trip to San Diego. By 1996 the team was down all the way into Division III, which had it's inception two years earlier thanks to a merger with Clive Hanson's Scrub League. Their stay there was short winning the Division III Championship by defeating the surprising Chicago Marauders.
Sometime in between the two Blitz games, the once again financially strapped team is forced to relocate again and move to Cleveland and rebrand themselves as the
Cleveland Steamers
, a reference to a short-lived, forgotten team in The League's early history. In 2006, Cyclones Team Captain FS
Ezekial Freeman
has his worst statistical season. As a result Freeman demands and is granted a trade to the
Cincinnati Crusaders
as he claims that " God told him to be a Crusader ".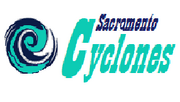 Team Captain: Ezekial Freeman
Stadiums
(Copper Field) (1956-1980)
Cyclone Stadium (1981-2006)
San Diego Cyclones Roster
Quarterbacks

1

Dwight Parker QB

3

Luther Pierce QB

14

Austin Stoker QB

Running Backs

35

Jerome Kennedy RB

32

Steve Kucera RB

30

Domanick Douglas RB

40

Nathan Fredricks FB

38

Donnie Green FB


Wide Receivers

80

Floyd Lynnwood WR

83

Darell Remlinger WR

85

Roger Steadman WR

88

Willie Hartman WR

86

Scott Weiss WR


Tight Ends

87

John Slane TE

82

Alan Cashman TE

84

Sam Daly TE

Linebackers

56

Brent Storm ILB

54

Peter Wolff ILB

52

William Canfield LOLB

55

Terrance Beckerman ROLB


Defensive Backs

23

Ezekial Freeman CB

25

Michael Harper CB

33

Sam Snow SS

26

Rapheal Smith FS


Special Teams

16

Wesley Juergens K

13

Harry Peppers P