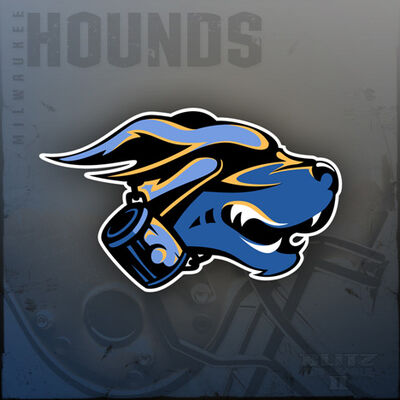 The
Milwaukee Hounds
are a professional football team in The League. They currently play in Division 3 and are the second League team to play in Milwaukee after the Milwaukee Bottlers called the city home from 1923 to 1941.
Once a league joke, the Hounds are now a force to be reckoned with. They started as a semi-pro team from the now-defunct Lake Michigan League, and gained entrance to the League during the short lived Division III strike of 2007. The entire team was hired as scabs, and they ended up playing well enough to earn a franchise bid.

The Hounds are the player's opponents in the Division III Championship during the first season of play. However, after the second season of play, the Hounds do manage to win the Division III Championship and move up to Division II led by claim to fame star Conrad Damon who considered to be the next Shane Spain but with a fucked up ego. Going into the 2010 season the Hounds look ready to make a go at the Division II Championship .
Team Captain: QB Conrad Damon
Team Stadium: The Dog Pound
The team's stadium is a reference to the NFL's Cleveland Browns stadium.