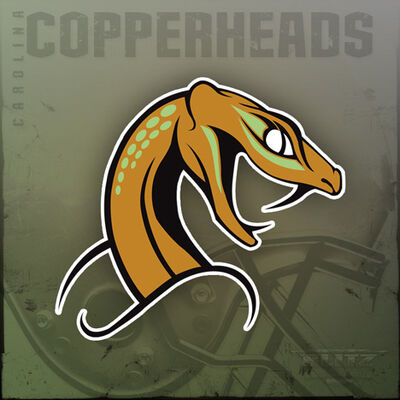 The
Carolina Copperheads
are a Division III team in
Blitz the League II
however, they are not playable during Carrer Mode because the
Player-Created Team replaces
the Copperheads in Division II. They are one of 15 recurring teams from the original
Blitz the League
game. Carolina is known for their quarterback and team captain
Grant Tanner
who's known for having the best long ball in the League.
The Copperheads were a founding member of the Scrub League that was created by Clive Hanson to seize the opportunity and fill the void left during the Strike years. They started play in 1992 and were merged into The League when Hanson sold his controlling interests in the Scrub League to The League and effectively merged the two creating a Division III. In 1997, Judd "The Stud" Crenshaw a player for Carolina is served two paternity suits against him by two of the Copperheads cheerleaders. Crenshaw T-Shirts and Jerseys become top sellers because of the incident.
Division II
Edit
By 2004 the Copperheads had made it into Division II. In 2005 with their #1 Draft Pick they took QB Grant Tanner. Tanner had a good rookie season, finishing 2nd in passing yards and taking the Copperheads to a .500 season. The next two seasons however did not pan out well for the Copperheads as they finished with a combine record of 6-14 over that span.
Fall to Division III
Edit
In the 2008 season, the Copperheads are bumped from Division II to Division III mostly due to the lack of defense in the secondary as they finished last in the division in passing yards allowed.
Team Info
Edit
Team Captain:
QB Grant Tanner (2005 - Present)
Stadiums
"The Snake Pit" (1992-Present)
Carolina Copperheads Roster (BTL I)
Quarterbacks

12

Grant Tanner QB

10

Ted Benson QB

7

Woody Williams QB

Running Backs

22

Randall Gray RB

34

Maurice Phillips RB

24

Napolean Simms RB

44

William Forsyth FB

40

Sam Bradley FB


Wide Receivers

88

Dustin Samuels WR

84

Terence Moore WR

81

Erik Leaf WR

80

Bill Metcalf WR

83

Edwin Gonzalez WR


Tight Ends

85

Mason Edwards TE

87

Walter Harrison TE

89

Ted Roberts TE

Defensive Line

Linebackers

54

Terrell Dawson ILB

55

Derrick Wayne ILB

50

Gary Sutter LOLB

59

Patrick Garnet ROLB


Defensive Backs

21

Eric Alverton CB

26

Aaron Carter CB

32

Keith Horn SS

41

Adam Eastman FS


Special Teams

1

Jonathan Hamm K

8

Brian Pulaski P
Carolina Copperheads Roster (BTL II)
Quarterbacks

12

QB Grant Tanner

10

Ted Benson QB

Running Backs

22

Randall Gray HB

34

Maurice Phillips HB

44

William Forsythe FB
40 Sam Bradley FB


Wide Receivers

13

Dustin Samuels WR

11

Aaron Bryant WR

81

Philander Browder WR
84 Terance Moore WR
80 Chance Wayman WR


Tight Ends

85

Mason Edwards TE

87

Walter Harrison TE


Offensive Line

70

 ?. Alsop C
60 Reggie Shaw

73

 ?. Dalry LG
63 Carl Anderson

78

 ?. Pawlak RG
68 Ike Taylor RG
62 Ernest Edwards LT
64 Clarence Martin
66 Peter Robinson RT
69 Willie Brooks

Defensive Line

98

 ?. Dalton LDE
96 Joseph Peterson

93

 ?. Marshall RDE
91 Mark Taylor RDE

92

94 Henry Perry
99 Sam Lopez
95 Joe Richardson

Linebackers

54

Terrell Dawson ILB

55

Derrick Wayne ILB
57 Bobby Bennett ILB

51

 ?. Roberson LOLB
50 Robert Reed LOLB

59

Patrick Garnet ROLB
56 Gary Sutter ROLB


Defensive Backs

21

Eric Alverton CB

20

Chris Gamble CB

33

 ?. Simpson CB
37 Chad Starks CB

43

 ?. Reuter FS
23 George Lincoln FS

40

Adam Eastman SS
45 Abraham Washington SS


Special Teams

1

Jonathan Hamm K

8

Brian Pulaski P