B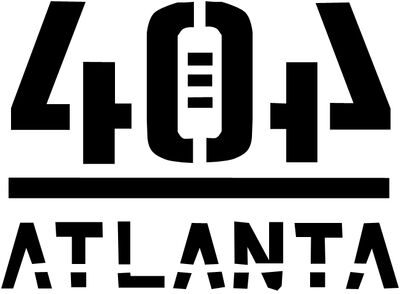 The Atlanta 404 are a Division II team in Blitz the League II. The 404 have been in the League for two years and have made themselves known for having a powerful defense. Their team captain is defensive end Kimo Talofa and has been their captain since the team has been in the League.
The 404 entered the League in part of commissioner Clive Hanson's initiative to expand the League in 2006 along with a few other teams. The origin of having the team in Atlanta is a mystery, but the 404 came in part that Atlanta's area code is 4-0-4.
Division III
Edit
During the first year of play, the 404 were unstoppable thanks to their defense as they plowed through their opponents and winning the Division III championship; the second time that an expansion team won the championship in three years (Player-Created Team in Blitz I).
Division II
Edit
Their first season in Division II didn't go as well as the team hoped. Although they were fortunate to not finish in last place, the 404 realized that they needed to improve their sub-par offense, so they drafted quarterback Lance Holden. Unfortunately Holden hasn't lived up to the hype during training camp and critics have begun rumors of Holden being a bust.
The 2008 season wasn't as bad as last season for Atlanta as they finished in the top half of Division II that season, however, it was still apparent that their quarterback situation is still up in the air, but the 404 found a glimmer of hope with their running back Brendon Edington as he became the first 404 running back to reach 1,000 yards rushing in a season.
The 404 fell short of making it to the Division II Championship in 2009. With Talofa's departure for the Riot, the 404 managed to win the Division II Championship in 2010 on a last-minute Hail Mary pass against the Miami Hammerheads.
Team Info
Edit
Team Captain:
DE Kimo Talofa (2006 - Present)
Team Stadium
:
404 Stadium (2006 - Present)
Atlanta 404 Roster (BTL II)
Quarterbacks

3

Lance Holden QB

10

F. Dolan


Running Backs

31

Brendon Edington RB

29

Rob Whitney RB

35

F. Garcia RB

47

D. Otto FB




Wide Receivers

40

Keith Hess WR

86

Tony Amaris WR

16

T. Allen WR

17

T. Pritchett WR
87 Cameron Mclaughlin
81 Garett Gill
84 Austin Barker
88 Lewis Padilla




Tight Ends

80

F. Marano TE

82

D. Bowman TE




Offensive Line

77

D. Sherrod C
67 Emmett Lynch

66

K. Ware LG
76 Chris Moore

61

P. Diaz RG
71 Al Schultz
68 Michael Gray T
65 Tyler Pleasant
64 Randy Jenkins

Defensive Line

99

J. Kroeker DE

98

Kimo Talofa DE

91

L. McDonald DE
90 Leo Cooper

92

M. Faucett DT

78

 ??? Hope DT
93 Shane Tucker
95 Demarcus Ewing


Linebackers

58

Devarius Henderson LB

53

L. Bannister LB

56

T. Mathis LB

54

K. Hunt LB
50 Marcus Connor
52 Raytron Lamar
57 Donnell Lawler




Defensive Backs

24

J. Garvey CB

28

J. Montanez CB

25

E. Castenada CB
22

26

S. Weiss SS
20

21

C. Karpinski FS

23

I. Laufer FS




Special Teams

4

 ??? Himes K

15

 ??? Bailey P