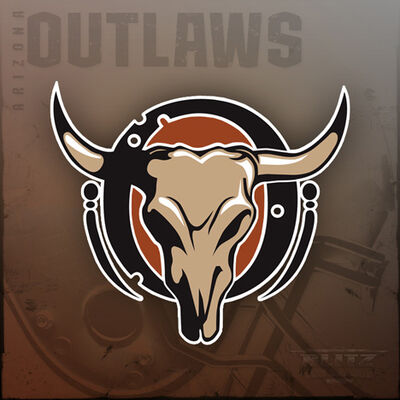 The Arizona Outlaws are a Division I team in Blitz the League II. They are one of 15 recurring teams from the original Blitz the League game. The Outlaws are known for their high-octane offense that can score on any play. Their team captain is veteran wide receiver Tito Maas.
The Arizona Outlaws were a founding member of the Western League in 1956, known then as the Los Angeles Lightning. In 1965 they would be part of the first ever Eastern-Western Exhibition game when they lost to the New York Shamrocks which was played in Brooklyn, New York. The game garnered the highest ratings ever for a football game. In 1970 the Lightning's owner Hal Davison wanted the city of Los Angeles to build the team a new stadium but in a citywide vote they overwhelmingly said no. This let Davison accept an offer by Tempe, Arizona to build a stadium and he rebranded the team the Arizona Outlaws. After the 1976 East-West merger the Outlaws started play in Division II.
The 2000 Season and the Battaglia Issue
Edit
In 2000 the team had the #2 overall draft pick and used it to take LB Bruno Battaglia to pair with their 1999 4th overall pick Amos Newell, however he failed to show up for the draft and was later found passed out in his hotel room incensed the team refused to sign him and he ended up with the Baltimore Bearcats. Also in 2000 the team plays the longest game in League history against the Chicago Marauders with the score tied at 14 after regulation they went six more quarters before a Chicago field goal ended it. Neither team recovered and both finished near the bottom of Division III, a Divison created by the 1994 merger with Clive Hanson's Scrub League.
Division III
Edit
Arizona stayed in Division III for the next four years until they finally stockpiled enough talent for them to finally get a shot at the Division III championship. Unfortunately they were unable to defeat the Player-Created Team and stayed in Division III until defeating the Chicago Marauders the following year.
Division II
Edit
The Outlaws first year in Division II came to a surprise for the team as they finished with a dismal 2-4 season, finishing 5th in the standings. The Outlaws realized that their pass defense wasn't working out so management decided to change defensive coordinators. The change resulted in success for the Outlaws as they won the Division II championship the following year.
Division I
Edit
Arizona's first year in Division I did not turn out so well. They finished with a 2-6 record, finishing 7th in the division. Most of blame goes towards the defense as the talent did not play as well as they did when the team won the Division II championship.
Team Info
Edit
Team Captain:
WR
Tito Maas
(2003 - Present)
Team Stadium:
Lightning Stadium (1956-1970)
Camelback Stadium (1971-Present)
Arizona Outlaws Roster (BTL I)

Quarterbacks




4

Chris Cane QB

18

Mike Flag QB

12

Frank Meadows QB

Running Backs










30

Justin Mears HB

44

Dwight Jefferson HB

25

Greg Smith HB

33

Rick Rivers FB

30

Travis Mack FB

Wide Receivers










80

Tito Maas WR

89

Sam Tidwell WR

84

Darnell Davis WR

85

Floyd Vincent WR

82

Tim Lampert WR
81 Travis Browne WR

Tight Ends










88

Steve Corella TE

85

Frank Hodges TE

87

Marcus Weber TE

Offensive Line










58

Al Stone C

68

Gex Gruber LG

62

Simon Underwood RG

Defensive Line




91

Gary Patton LE

94

Chad Rogers RE

93

Dave Poole DT

Linebackers










56

Brian Asher ILB

57

Dave Agnew ILB

59

David McKenzie LOLB

53

Marcus Green ROLB

Defensive Backs










27

Sam Blackmon LCB

22

Corey Harris RCB

42

Vince Becker SS

24

Vince Scott FS

Special Teams










8

Ryan Lyons K

3

Steve Adams P
Arizona Outlaws Roster (BTL II)
Quarterbacks

4

Chris Cane QB
18 Frank Meadows QB

♙

Running Backs

44

Dwight Jefferson RB
30 Justin Mears RB
25 Greg Smith RB

33

Rick Rivers FB
32 Travis Mack FB




Wide Receivers

80

Tito Maas WR

84

Darnell Davis WR

89

Troy Arellano WR

85

Floyd Vincent WR
82 Antron Mason WR
86 Travis Browne WR




Tight Ends

88

Steve Corella TE

87

Marcus Weber TE


Offensive Line

61

Al Stone C
71 Blake Stevens

68

Gex Gruber LG
63 Ronnie Stevens

62

Simon Underwood RG
64 Kevin Stewart
60 Chad Flynn LT
69 Chris Kraemer
66 Charles Higgins RT
67 Cameron Robinson

Defensive Line

91

Gary Patton DE

94

Chad Rogers DE

93

Dave Poole DT
58 Tony Ellis DE
51 Jim Green DT
97 James Winston DT
92 John Carey DT




Linebackers

56

Stevie Baggs LB

57

Dave Agnew LB

59

 ??? Schulman LB

53

 ??? Greenwell LB
44 J. J Evans II LB
50 Eddie Clark LB




Defensive Backs

21

Leon Sandcastle CB

22

 ??? Wygant
34 George Sanders
35 Malcolm Little

42

 ??? Zemora SS
28 Willie Moore

24

Vince Scott FS
40 Bernardd Sims


Special Teams

8

Ryan Lyons K

3

Steve Adams P